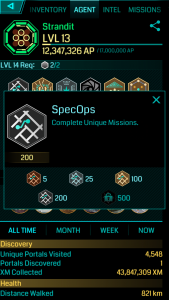 I think I'm the first Ingress player in the Bay Area to hit platinum specops, which means I've done 200 missions. (Missions are player-generated mini-quests that can be as easy as interacting with 4 portals or as hard as figuring out a set of passphrases over multiple miles.) This was not super-hard to do, but it did require a lot of persistence and some planning.
My 200th mission was Climb Mount Davidson by Agent hiryu; it was a nice walk up to the top of Mount Davidson, which was not terribly strenuous but which rewarded me with a great view nonetheless. My longest one — probably Hike Mt. Wanda, in Contra Costa County, which was a couple of miles of hiking up a nifty trail.

I completed eight missions at Walt Disney World a month before Niantic opened up mission creation to almost anyone. If I had taken that trip two months later, I'd have been able to do 100+ missions in that week with minimal effort. No regrets! I did 17 Disneyland missions on our last trip there. I have 16 missions from business trips to LA, and four airport missions (one of which overlaps with the LA mission count). I did more annoying "hack every portal on this downtown San Francisco street" missions than I want to think about.
I completed 45 missions in Contra Costa County in one weekend, thanks in large part to a very busy mission creator in Martinez. I completed 26 of those missions on Saturday, a personal record that'll stick until my next Walt Disney World trip. I then knocked off another six missions in San Francisco on Sunday, thanks in complete part to my own obsessiveness.
I completed a set of missions whose badges spell out "RESIST" and I completed a set of missions whose badges spell out "SMURF TEARS." I was careful to do neither of them in order, because I think that kind of thing is a bit silly. My badges spell out "SISTER" and "MTRESAURSF," instead. I didn't take the time to figure out something clever to do with sad smurfs at the time, but if you need a good anagram, I'd recommend "FASTER RUMS" or "TSAR'S FEMUR."
I don't know that I'm going to hit onyx specops — 500 missions — any time soon. However, I'm not going to stop doing missions just because I got this badge, so we'll see.
I will chatter on about any aspect of missions on demand, regardless of faction.