I finally coax eMusic into letting me download the bonus tracks from the new Matthew Sweet and Susanna Hoffs. "Marquee Moon" is one of the songs. That's most of why I wanted them. I play it.
For a moment I'm worried that my headphones are broken, as the guitar is isolated in my left ear. Then the rest of the music comes in to the right, echoing through my skull. Two guitars twine back and forth like snakes kissing. It is abbreviated, terse. Every time the chorus occurs, the notes extend out, bridging across austerity with sudden melody. Tom Verlaine and Richard Lloyd alternate solos… wait.
Matthew Sweet plays all the guitar himself. This is not a reinterpretation. This is a tribute. Richard Lloyd played guitar on his breakout album, Girlfriend. These cover albums of his aren't just power pop meditations. The Who, Richard Thompson, Neil Young, Television, Eric Clapton: let us pause to honor our guitar heros.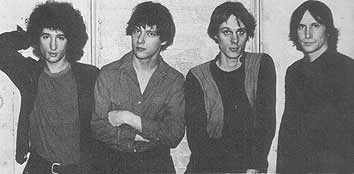 For a few bars, Susanna Hoffs sings harmony. Not much. The final solo fades to nothing. The first verse repeats. Silence.
10 minutes, 50 seconds. The original is 10 minutes, 40 seconds.
I put the original song on. Lightning struck itself.