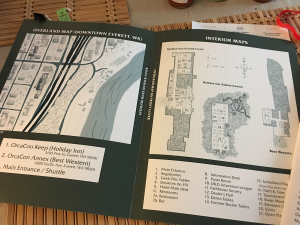 Susan and I went up to OrcaCon for the weekend. It's a local gaming convention in its second year, with an emphasis on diversity and creating a safe space for gaming. It ran Friday through Sunday, 1/13 through 1/15, at the Holiday Inn Downtown in Everett, WA. Rumor is that it had around 1,000 attendees. I am no good at judging crowd sizes but that sounds about right to me.
Check out the cool program book there! (Oooh, visual aids.) Not only was there an awesome map, but the back six pages or so were a Mutants & Masterminds quick-start. This is the most useful con program book I've ever seen.
If you are too busy to read through the thousand words or so that follow, my quick recommendation: this con is definitely a must if you're in the Seattle area, and it's worth some travel if you like really well-run regional gaming conventions.