I ran this like a year ago but I was cleaning up my desk cause of new kittens and I found the index card. I should probably do a kitten post, huh? They're great.
Anyhow this is what Honey Heist prep looks like and all I did was roll five dice and look some stuff up on tables.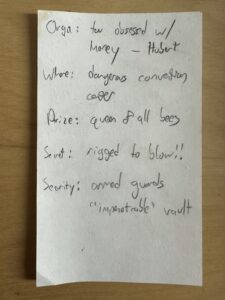 Orga (Convention Organizer): too obsessed w/honey — Hubert
Where: dangerous convention center
Prize: queen of all bees
Secret: rigged to blow!!
Security: armed guards, "impenetrable" vault
If I recall correctly, I located the convention out at Stehekin, which is a very remote Washington state town, and a lot of the shenanigans had to do with boats.