The Celestial Pictures DVD restoration of The 36th Chamber of Shaolin is maybe the clearest print of a Hong Kong movie I've ever seen. It's beautifully vivid. The only thing that'd beat it would be Crouching Tiger, Hidden Dragon, and I'm not sure I can count that.
OK, look, it's this pretty: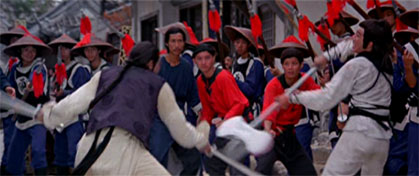 Look at those reds and blues. They pop. In fact, my only complaint may be that it's a little too vivid, but I'm not sure that's not just my modern eyes watching a 70s Technicolor epic.
The first fight scene is pretty decent too, albeit a little slow for someone weaned on John Woo and Tsui Hark. But I still liked it.