I kinda think I haven't found the heart of Atlanta yet. I took MARTA up to the Buckhead station, and found a wasteland of shopping malls, alleviated only by a Borders with a stunningly friendly woman behind the counter. Midtown was nicer this morning — the Flying Biscuit is a short walk from the train station, and they do an awesome breakfast. Even if they only have turkey bacon. So maybe Midtown is the right place to be, but there weren't all that many pedestrians. Hard to figure.
People are authentically nice. You can tell because they aren't just nice to you; they act in a manner which expects niceness back. I was walking past Piedmont Park and a guy in his twenties said "Hey, excuse me?" He was in the middle of parking. He wanted help parallel parking so he wouldn't ding the bumper of the car behind him. That's pretty nice, and he assumed I'd be nice and help out, so I did.
(He had three feet in front of him. A Bostonian would have been embarassed to ask for help in a situation like that. There's some kind of tradeoff here.)
In any case, I have the pleasure of having gone from this: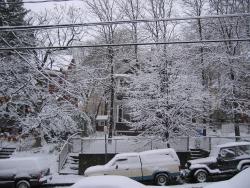 To this:
The latter is Grady High School's football stadium, by the by. It is the alma mater of Earthwind Moreland, New England Patriot.