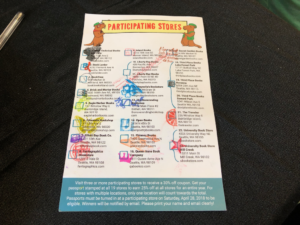 Susan and I visited a whole bunch of bookstores on Saturday. Seattle goes all out for Independent Bookstore Day — 19 participating indie bookstores run this program where you get a passport and get stamps at each participating store and if you get to all the stores in one day, you get 25% off purchases for the next year. Last year we missed it. This year it was a priority.
It involved two ferries, ten hours of driving, and a lot of cookbooks. This… is our story.
We caught the 6:10 AM ferry over to Bainbridge Island. This was not absolutely necessary, but we were aiming for a relatively speedy completion time. The theory is that you want to start on Bainbridge because both Eagle Harbor Book Co. and The Traveler open at 7:30, earlier than any other participating bookstores. Thus, you knock those two off at the earliest possible time, swing up to Poulsbo for Liberty Bay Books, the third bookstore on the west side of Puget Sound, and then get back on the mainland by 9 AM (if you're lucky and quick) or 10 AM (otherwise). It's amazing the things we'll tell ourselves in order to get our asses out of bed at 5 AM.
Now that I'm looking at the bookstore page again, it looks like we'd have been slightly better off hitting Poulsbo first after taking an early ferry from Edmonds, but I think that wouldn't have let us end at Elliott Bay Book Company and I kinda wanted to do that. Maybe we'll experiment next year.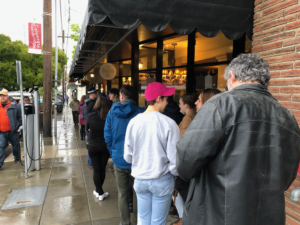 We didn't bother getting out of the car but from the pictures posted to the #SEABookstoreDay tag, there were a lot of other book lovers on the boat. We were busy getting an extra fifteen minutes of nap. The early ferry gets you onto Bainbridge in theoretical time to stop and grab some food at Blackbird Bakery. We randomly bumped into our friend Cassie, chatted for a bit, then I got in line for food (pictured) and Susan got in line for The Traveler. In practice the line was long enough so I got my coffee, scones, and a brownie just as Susan was finishing up her second stop at Eagle Harbor Book Co. Really good scones, though, so worth the wait.
Second-hand from Susan: The Traveler is mostly a travel store, bags and such with some travel books. Eagle Harbor was what you'd expect — decent range of books, not extraordinary, very busy on that day.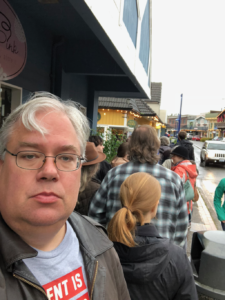 I waited in line for Liberty Bay Books while Susan parked, a practice we would repeat for most of the day's stops. It was a cute bookstore — not huge but I'd go there happily if I lived in Kitsap. I bought a PNW sticker mostly to be polite.
From there we made all possible speed up to Kingston to catch the 8:40 ferry back to Edmonds, which would have gotten us to Edmonds Bookshop by 9:05, right after they opened. My use of the subjunctive betrays the end to this portion of our tale. We missed getting on the ferry by about three cars. So it goes.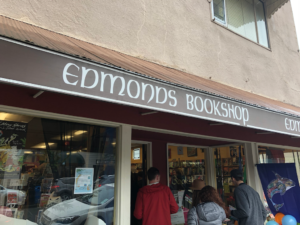 Edmonds Bookshop was another cute local bookstore. We just got a stamp here and moved on; at this point I recognized the need to ration my guilt at not buying anything. I targeted spending money at around a third of the bookstores. You've got to pace yourself. I did browse, though, as proven by Susan's shot of me looking thoughtful.
After Edmonds we cut just north of Seattle and landed at Lake Forest; super-quick drive and we made up some time there. Not that we were racing. Much. Third Place Books really deserved more time; there's a food court sort of to one side of the bookstore, and it's a big bookstore. Apparently they open for breakfast. This is exciting and I want to go back here sometime fairly soon.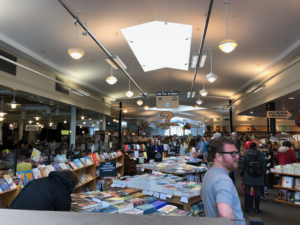 The penalty of being a relatively big bookstore is that I don't feel insanely bad about not spending money, which is of course wrong but so it goes. Still and all, cool bookstore. They buy used books, too! And while I didn't get a picture of the food court, there's a BBQ counter along with a couple other restaurants. I'm into this place.
On to Bothell. We spent most of the drive there on me learning how to pronounce Bothell. I think my New England upbringing ruins me for this; I keep wanting to mess around with the vowels, which is not necessary in this case. Bottle with an "h," not Bow-tell. Or Wooster.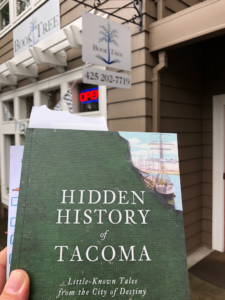 The Neverending Bookshop is really tiny. I feel like this is the kind of place that has trouble surviving in the Amazon age, which is a shame. I ran in to get a stamp, then we drove to Kirkland for BookTree Kirkland, where I alleviated guilt once again by picking up a book on Tacoma history. BookTree was quite cool, good stock in limited space. I would patronize them often if I lived in Kirkland.
From Kirkland it's an easy hop over to Brick and Mortar Books in Redmond, and from Redmond it's a reasonable drive to Mercer Island. (Insert fast food for lunch between Redmond and Mercer.) Island Books was the Mercer Island stop. Both those bookstores are decent small local bookstores that probably deserve better settings — the Redmond Town Center is a bit soulless and Mercer Island is always going to lose points for me because the residents are so snotty about public transit. Not the bookstores' fault.
In any case, Island Books was our last stamp outside Seattle proper. Back to urban living, yo. I ate the brownie from Blackbird Bakery on the way to Fantagraphics.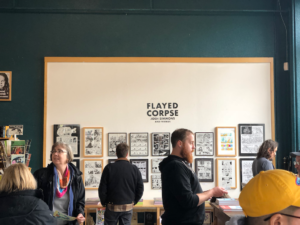 Fantagraphics was great. Parking in Georgetown was a pain but I wanted to browse some so run-in-run-out was off the table. Still a fun browse and I walked away with a collection of Gahan Wilson cartoons from F&SF Magazine, which is a nice childhood call back for me.
The alternative comix haven may have been a bit different than the Independent Bookstore Day crowds expected. The clerks did a good job of saying "no, no, those comics probably aren't for your ten year old" while I was there.
If you're keeping track — we sure were — you'll note that at this point we were a little over halfway done. The next few bookstores were theoretically our chokepoint, since several of them closed at 5 or 6 PM. Given that we were done at Fantagraphics by 1 PM I wasn't too concerned about running out of time. Nonetheless, it was nice to know that even if one of us broke a leg the other one would have time to drop the injured party at a hospital and finish up the marathon.
The Queen Anne Book Company is really cool; they have a nice space and good variety. I was sad to see El Diablo Coffee Co. next door was having landlord problems; they serve a nice latte.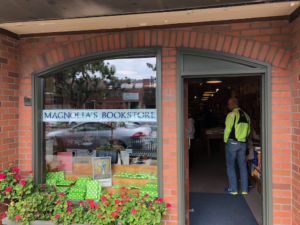 We kept rolling. Off to Magnolia and Magnolia's Bookstore. Small but friendly place. I don't think we bought anything there but this is definitely the point at which they started to blur just a bit. However, we were well past the halfway point and moving steadily through the early closing bookstores. I think this is where I explained my broken leg theory to Susan, who was skeptical. We also ate our Blackbird Bakery Nutella brownie after leaving Magnolia. Very good, recommended.
Next stop was home turf: Secret Garden Books in Ballard. I made a quick in-and-out — I'd bought books there before, since it's less than a mile from our house. Great children's bookstore with a smallish general section. I recommend it if you're messing around on Market Street.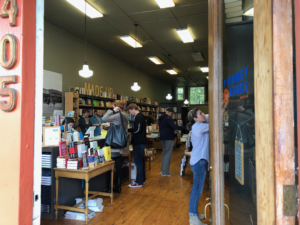 We kept it moving: onward to Phinney Books. I had never been here but I totally want to go back. The atmosphere was welcoming, the selection was quite good, and the people were super nice. I'm pretty sure this is where I bought Seattle Walks, an awesome book containing several walks around Seattle framed as history lessons. We are enthused about trying those out.
At this point we took a deep breath. Here's the backstory. We've been past Book Larder a million or so times. We have carefully never gone in, because the budgetary risk of entering a bookstore dedicated to cookbooks is way too high for us. Yes, we own more RPGs than cookbooks, but cookbooks come out at a much higher rate.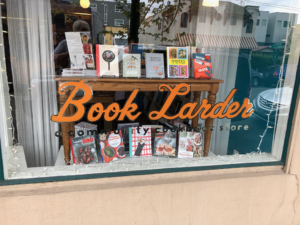 We knew that once we broke the seal and entered those dangerous halls, we'd have no excuse not to buy a couple of cookbooks, and once we'd done it once we could always go back if we were in the area, and so on, and so forth. But we had to go in if we were going to complete the challenge.
I thought for a bit about hiring someone to get a stamp for us. It seemed silly. We were gonna visit this place eventually, and why not today?
It's a seriously great store. Very good range of cookbooks, well organized. It was, amusingly, the most crowded of all the stores we visited. They also had the best snacks, which is not surprising: really good cheese puff pastries with a cool name I forget. We bought several cookbooks. I have no regrets.
After stuffing ourselves on cookbooks, we drove over to Open Books. They got the smart retailer award of the day: the person stamping passports was also the author doing signings. I had not intended to buy poetry but I was absolutely overcome by guilt and elected to support my local artists after all. Good trick! (Check out Zeina Hashem Beck.)
Home stretch. We swung through the University District and I stopped into University Book Store. After some mild confusion with a nice lady registering voters, I got our passport stamped and skedaddled. Guilt level low, come on guys, you have a captive audience buying text books. You're gonna be OK.
We then crossed the Montlake Cut and fetched up at Ada's Technical Books. These guys are the best. I really, really need to check out their event list more often because I always wind up wanting to go to something after it's already happened. Clearly Seattle needs a direct bus line from Ballard to Capitol Hill. Perhaps by 2050.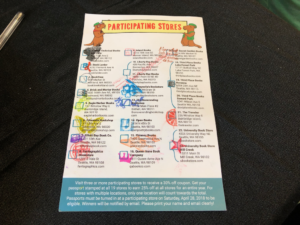 As we drove across Capitol Hill towards the estimable Elliott Bay Book Company, it was getting close to 4 PM. We left for the ferry at 5:30 AM, so call it ten and a half hours of travel. Totally worth it. The fastest participant this year finished around 2:20 PM. I figure, hm, we could have picked up an hour if we'd made the early ferry and we easily spent 40 minutes actually browsing and grabbing food and so on, so sure — being first would be within reach if we aimed for that. But nah, if we do this next year we'll know we have a few hours more to browse and buy and relax along the way, and that'll be nice.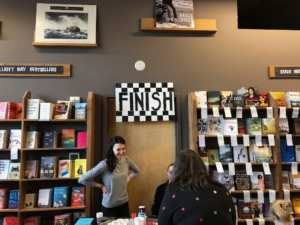 Still pretty impressed by the 2:20 PM mark, though.
Elliott Bay had a whole finish line set up for people who'd completed the full tour. It was open later than any of the other stores, thus a natural end point. They also had these great crowns and little word balloons and all the good things. Quite celebratory! I took advantage of the proffered tequila shot, let them take a picture, turned in our passport, and then we slunk off into the — well, into the late afternoon.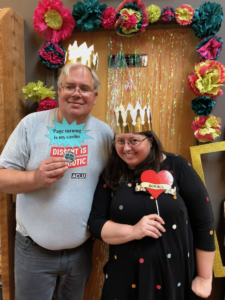 The party to pick up our year's discount passes is on May 20th, and I look forward to it immensely. I am told that 500 people completed the full run this year, up from 320 the previous year.
See all of you bookstores next year, yo.