We're a pro wrestling blog now!
I enjoyed my first DEFY show enough to make it a regular thing. Last night they ran Seattle again, with Jeff Cobb on the show, which was more than enough to get me down there. It didn't have any surprises like Moxley showing up but it was perfectly good indie wrestling and I'm looking forward to the next one.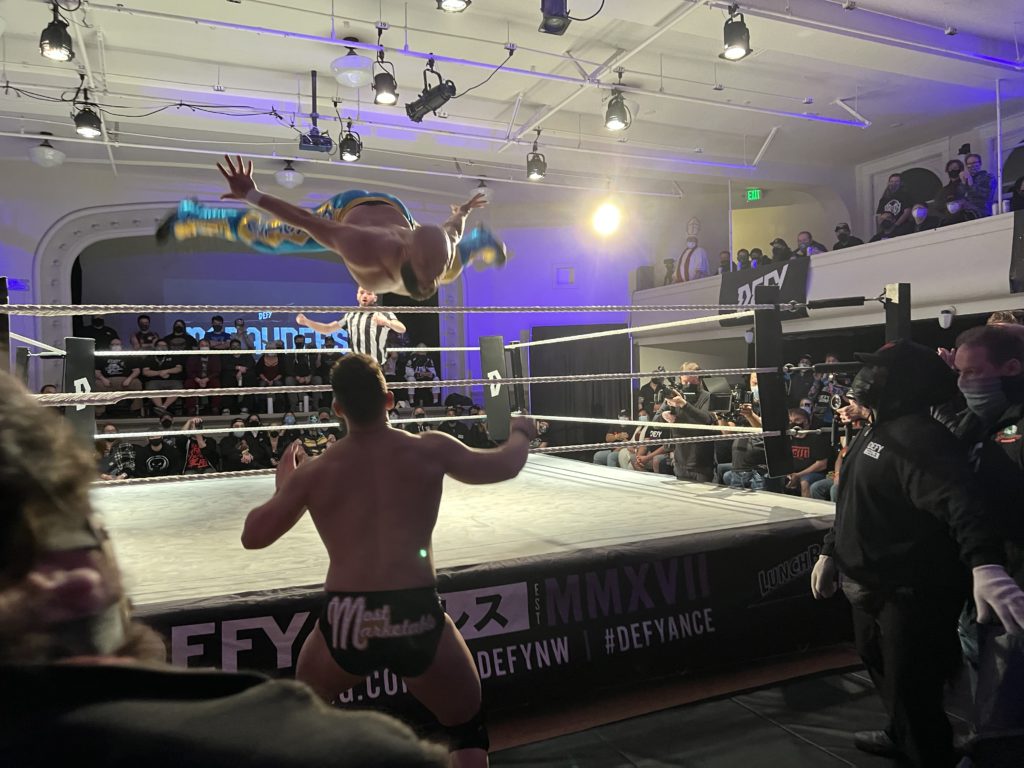 They opened with Midnight Heat vs. NDS for the DEFY Tag Team title. NDS is a couple of newish wrestlers out of Minnesota; Midnight Heat is pure evil. This was way better than the ad hoc Heat vs. Cody Chhun and Nick Wayne match from last time. Nothing spectacular in the ring, just a strong pair of heels building heat with fiery underdog babyfaces. The inevitable hot tag was fun. 2.5 stars. I realized during this one that one thing I like about the DEFY crowd is that nobody's trying to be a smart mark. Heels are bad, faces are good, no need to get cute.
Following that, Richard Holliday wrestled Jordan Oasis. Holliday is a ton of fun — he's one of those cocky stuck up heels who mocks the audience for being losers. You could say he's doing an MJF riff but the persona hardly originated with MJF, so I'm just gonna say he's easy to hate. Unfortunately the match didn't quite live up to the potential; Oasis felt like he was moving just a bit slow. 1.5 stars, didn't hate it, didn't love it.
Nick Wayne vs. Titus Alexander spiced things right the hell up. Alexander was just as good as he was in the Daniels match from last month, and Wayne is doing all the things you'd expect from a high flying teenager who hasn't learned caution yet. High end flippy stuff. They're both gonna get better but this was good and didn't get too ungrounded. 3 stars, keep it up.
Next up was Jeff Cobb vs. Jacob Fatu. That's a lot of beef in the ring, and they both did a lot of beefy things. Some guys have chop fights, some guys have "throw ourselves off the ropes into each other and see who falls over first" fights. They were clearly both having a ton of fun, too; Cobb turned the dial all the way over to his Jack Black mode. It could have been match of the night but there was a ref bump no-contest finish which was disappointing although I get why neither MLW or NJPW wanted their guy to take a pinball. 2 stars for beef.
Intermission!
After the break, El Phantasmo did horrible things to Sonico the Lucha Ghoul. Sonico's another local guy. Oddly enough, Seattle does have a lucha school run by an actual for reals luchadore, Lucha Libre Volcánica. I am not totally sure if they survived the pandemic, but the lucha guys who keep popping up in DEFY aren't randomly choosing to wear masks cause it's cool, so that's nice. The match between the two time Super J-Cup champion and a fun local dude went how you might expect, but it was totally enjoyable and Sonico kept up with ELP just fine. 2 stars, and once again I really appreciated that nobody felt like cheering ELP just cause he's a big name. He's the bad guy. You boo him. Especially when he claims to be the best PNW wrestler in the world, including Brian Danielson.
The big surprise of the night for me was the PCW ULTRA Women's Title Match, mostly because I didn't know what to expect. Viva Van was fine, but Allie Katch was awesome. There's room for her to grow as a wrestler, but she has a physicality to her that's hard to teach; she put emphasis on every punch she threw and every move she took. I liked her enough that I went back and did some hunting around on YouTube and wow, dropping the cat gimmick was a good idea. 3.5 stars. Katch deserved to win this.
Main event (or co-main event, I guess) was Homicide vs. Ethan HD. A couple minutes in Homicide made the ref stop counting Ethan out and called for a Seattle Street Fight. Apparently and thankfully that doesn't involve the SPD and tear gas. From there on it was a decent plunder match. The plastic fork was not entirely threatening but the chair spots were good, and the brawling was heated. Homicide is still really quick on his feet! The Brooklyn legend went over and told us that he loved DEFY, just like his little brother Eddie Kingston said he would. Mad cheers. 2.5 stars.
Back again on the 20th for the big Jon Moxley vs. Tom Lawlor match, which ought to be a barn burner. Fingers crossed that a couple of the LA Dojo boys come up, on general principles, but S. and I will have fun either way.