It's so good to be back.
Previously: 2004, 2006, 2015. So I guess this is my 20th anniversary Fantasia, which is unplanned but nice. I'd like to go more than once every ten years — remind me in 2028, right? We might have squeezed one in around 2020, but the pandemic.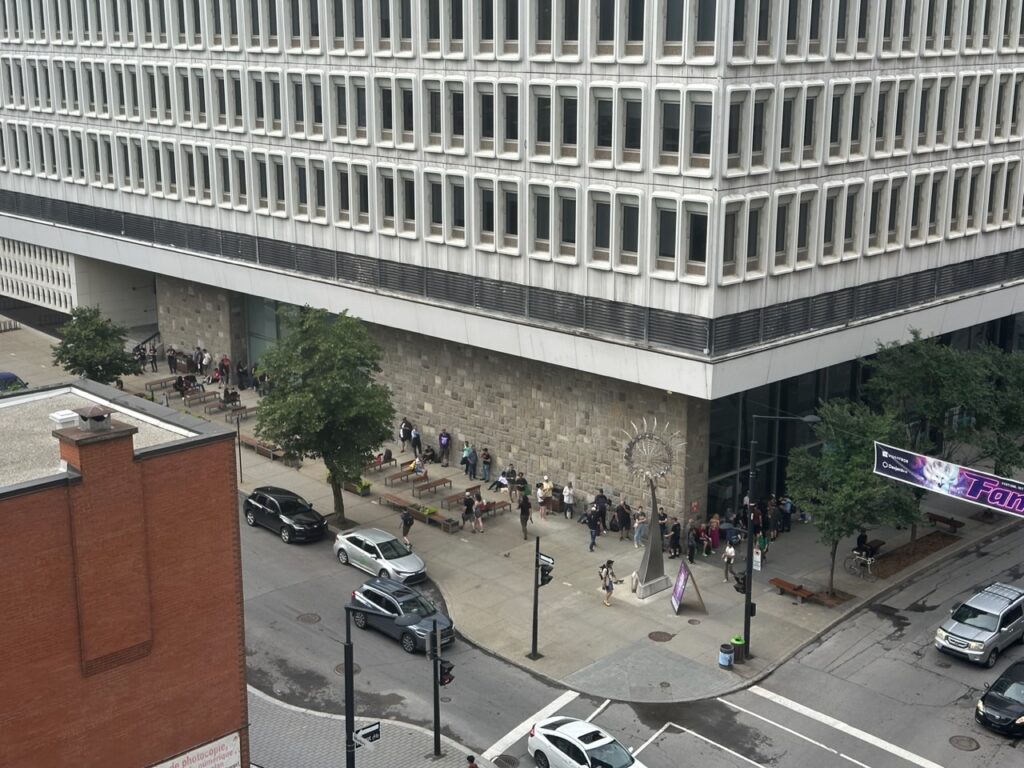 This year we're staying in a Sonder hotel which is literally across the intersection from Théâtre Hall, the primary venue. Wait, I have a picture from our balcony. You couldn't ask for a more convenient hotel. You could ask for a nicer one; Sonder is oriented towards cheap longer stays, so we're getting a nice discount for staying a week but there are stains on the hallway carpet. Whatever. There's a washer/dryer unit and a mini-kitchen in the room and a pool on the roof and we're in the middle of everything.
It's the morning of the second day right now. We've had two satisfying huge breakfasts, a good but slow Mediterranean lunch, a bunch of fast food dinners, and a lot of movies. Since Letterboxd exists, I'm not going to do separate write-ups here. They'll come along with the Letterboxd mirroring in due time.
I may post longer rambling thoughts. I try not to write reactive reviews on Letterboxd, which means if I want to yell about holding Nicolas Cage accountable for his performances instead of just going "ooooh he was over the top," I will do it here. Slightly unfair in this case since I think he was pretty good in Sympathy for the Devil, it's just the movie itself which failed him.
Not that this is a problem. I always see at least one movie I adore here, usually not the one I expected to love, and there's always a lot of crap. The experience is excellent nonetheless. It's fun being at a festival where audience reaction is encouraged. There's a tradition of "meows" before each movie, apparently thanks to Simon's Cat. That quiets down when the credits roll. The audience roars at good action scenes; yesterday, in The First Slam Dunk, we cheered the basketball game like it was real. We come to this place —
Nah, can't do it. But Fantasia is always going to be a second home for me.