Every now and then I use my cell phone camera, meaning to upload the picture and share it immediately. The sharing part never happens. This, then, is housekeeping.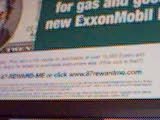 It's tough to make out, but this sign (which was on a gas pump) wants me to "click www.87rewardme.com." I tried, but I couldn't find a mouse. Or a screen.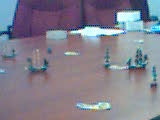 Arrr! Pirates, me hearties! A game of Pirates of the Spanish Main under (heh heh) full sail.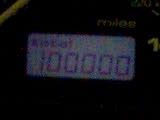 My car hits 100,000 miles. This actually happened as I pulled into the parking lot at work; this picture was not taken while driving. In case you were worried about my sanity.